Travertine Floor Filled and Refinished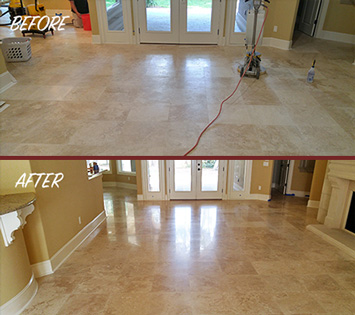 Travertine Floor Filled and Refinished
Problem
This travertine floor was in poor condition. Travertine has naturally-occurring holes that are often filled, as was the case with this floor, but with traffic and use, some of the holes in this floor had become exposed. We took the BEFORE image when we first arrived at the job site, and as you can see, the honed finish was dull and looked dirty even though it had recently been swept and mopped. The colors in the stone were muted and drab.
Solution
First, we filled the holes with epoxy tinted to match the surrounding stone. Then we honed the travertine to remove scratches and other damage and to blend the filled areas in for a nice even-looking appearance. With our travertine polishing processes, this floor came to a beautiful, glossy shine, as you can see in the AFTER image.
For more information about travertine restoration, such as etch removal, lippage removal (leveling uneven tiles), crack and chip repair, stain removal, sealing, filling naturally-occurring travertine holes, as well as honed, slightly polished, or high-gloss polished finish, visit our Travertine Services page.
For a FREE estimate on travertine polishing, repair, and restoration services throughout the Hilton Head area, contact us online or call (843) 540-1445 today.