Travertine Floor Polished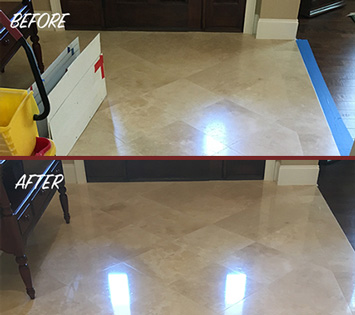 Travertine Floor Polished
Dull-looking Honed Travertine
We've seen our share of badly etched, chipped, or damaged travertine floors. This floor wasn't so bad, but it certainly wasn't impressive. It had a dull appearance. The homeowners wanted something with more clarity and reflection than the currently honed finish. As you can see in the first BEFORE image, the finish reflected a little bit of light from the front door, but it was just a nondescript blob of light. In the second BEFORE image, you can't see the reflection from the light fixture at all.
Travertine Finish Transformed to High-Gloss Polish
First, we honed the travertine to remove a thin layer from the surface of the stone, where scratches and worn areas were, which gave the floor a nice, new appearance. Next, we used resin diamonds and polishing pads to give the floor a gorgeous polished finish. Notice how beautifully the light reflects off the floor in the AFTER images.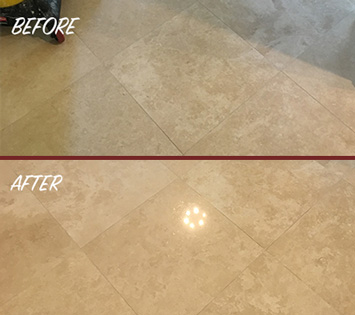 The home owners were extremely happy with the clean, inviting appearance of their floors, and they were amazed at what a difference changing the finish made to the overall elegance of the floor.
For more information about travertine restoration, such as etch removal, lippage removal (leveling uneven tiles), crack and chip repair, stain removal, sealing, filling naturally-occurring travertine holes, as well as honed, slightly polished, or high-gloss polished finish, visit our Travertine Services page.
For a FREE estimate on travertine polishing, repair, and restoration services throughout the Hilton Head area, contact us online or call (843) 540-1445 today.